According to World Health Organization, an estimated 15 million babies are born too early every year, that is more than 1 in 10 babies.
Preterm birth remains the single biggest cause of neonatal death globally and is the second biggest cause of all deaths under 5 years of age despite a reduction in mortality over the past two decades.
The in-utero development is disrupted for premature newborns, giving birth to babies with immature organs. Most of these immaturities involve some complications which are often interrelated, and this situation impacts the growth, maturation and ultimately healthy development of preterm infants.
Most proposed therapeutic solutions in Neonatology stem from adults treatments and are rarely suitable to this vulnerable patients population. Specific treatments and prophylactic therapies for neonates are underdeveloped by the pharmaceutical industry, making important to provide and expand medications that respond to critical health needs of preterm infants.
We aim to provide all newborns with our products regardless where they are born, whether in privileged or unprivileged countries.
Recently established, Gennisium aims to manage key and strategic functions in house, notably Regulatory Affairs, Medical and Marketing as well as Commercialization of drugs, with its own sales force, in key European and Export countries.
Gennisium also intends to control its Pharmaceutical and Distribution activities by combining In-house & Outsourcing operations (storage, secondary packaging, release and distribution), in order to give its business more flexibility and reactivity with global reach and to remain cost-effective.
Gennisium's team has experience in EU Centralized MA, ODD and Early Access / Named Patient Programs (notably in France) management, as well as working with Partners through Out-licensing agreements to get products approved in countries outside EU (Canada, Turkey, Colombia, Australia, New-Zealand, Korea, Israel…).
Gennisium is used to work with a network of suppliers and consultants for key needs : galenic development, manufacturing, packaging, logistic and commercialization.
Gennisium Pharma is a privately owned company, created by some individuals with diverse experience in pharmaceutical industry, and notably in the development and marketing of treatments for rare metabolism disorders, paediatric formulations and Orphan drugs.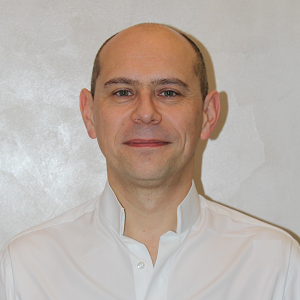 Chief Executive Officer
Administration & Finance, Business Development, Commercial Activities
Franck Pigache
Chief Executive Officer
Administration & Finance, Business Development, Commercial Activities
Franck is co-founder of Gennisium Pharma. From 2009 until 2017, he was co-founder and Managing Director of Lucane Pharma, a European Pharma company dedicated to the development and marketing of treatments notably for very rare metabolism disorders. He was CEO of Lucane Pharma in 2016 and 2017. Prior to that, he was active in Mergers & Acquisitions area within a major French bank. He holds a Specialised Master's degree in Corporate Finance (EM LYON) and French Chartered Accountant Examination (DESCF).
Emilie Garcin
Managing Director
Qualified person & Regulatory Affairs Director
Emilie is co-founder of Gennisium Pharma. She has more than 12 years of experience in pharmaceutical industry (including 8 years in Lucane Pharma), in several positions in Regulatory, Project Management, Quality Assurance and Qualified Person. Emilie contributed to the development and European approval of several orphan drugs and injectables products. She holds a Phd in Pharmacy and a Master in Regulatory Affairs and Quality Assurance from the University of Marseille.